Treasure Mile Online Casino guarantees all of its patrons a gaming environment that is 100% safe and secure. Get ready to let your hair down and immerse yourself in non-stop gaming action at the classiest online gambling venue this side of Las Vegas.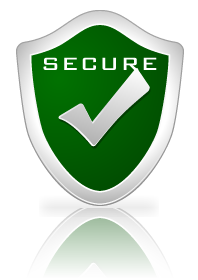 How does it benefit you?
Your money and your privacy are handled with respect and efficiency at Treasure Mile Online Casino - ensuring that neither your cash nor your identity is compromised at any point as you enjoy your gambling experience with us.
Download our casino now
Register as a Real player
Play safely online through our secure gaming system
Secure Online Transactions
Transactions at Treasure Mile Online Casino are facilitated by a cutting edge electronic transaction system that allows for fast, safe and secure electronic cash transfers. 128-bit Encryption, the most advanced level available in the industry, allows for safe data transmission at Treasure Mile Online Casino. Player, Casino and Financial institutions can therefore enjoy uninterrupted and secure activity and operation at all times.
Secure Software Download
Treasure Mile Online Casino operates from 100% Virus Free Software. Some highly sophisticated security safeguards guarantee that our casino software is certified safe, virus free, and therefore suitable for download. Treasure Mile Online Casino software is developed and maintained by leading software provider BetOnSoft – whom are recognised as Global Leaders in the online casino industry for their safe, innovative and progressive gaming software.
Anti-Fraud Policy
Our anti-fraud division is the most advanced and sophisticated in the industry. Our solid working relationship with financial institutions and industry watchdogs ensures cooperation and coordinated security to our players.
Our Random Number Generator (RNG) complies with all relevant standards and is audited by a 3rd Party Body.
Click here to see the approval certificate
P128-bit SSL (Secure Socket Layer) Digital Encryption is used to protect the details of your banking transactions over the Internet. This is the current Internet security standard for online transactions as demanded by major financial institutions.

Our Risk and Fraud division is one of the most advanced and sophisticated in the industry, supporting AVS/CV2, 3–D Secure (Verified by Visa and MasterCard Secure Code). Our established relationships with financial institutions, cash merchants and industry watchdogs ensure cooperation and coordinated security to our players.
PCI compliancy guarantees that all documentation submitted to the casino is 100% safe and secure.
Fair Gaming and Transparency
Treasure Mile Online Casino holds Fair Gaming and Transparency in the highest regard. This is why we have employed a certified and independently audited Random Number Generator.

Online players at Treasure Mile can also track their wagering and gaming history through Playback, as well as review and track their banking transactions through our easy-to-navigate Statement Page within the casino's cashier section.
These accurate reports and statements make it easy for a player to track their gaming and transaction history without hassle.
Internet privacy
As an honored guest and valued patron of Treasure Mile Online Casino, your privacy and information security while you are on the internet is important to us. Because we would like to keep you as a player, we adhere to a Strict Privacy Policy.
We prohibit the use of your information in any manner associated with the transmission, distribution or delivery of any unsolicited bulk or unsolicited commercial e-mail ("Spam"). We own and protect the information of our players and will not sell, trade, transfer or rent their personal information to any third party.
Associated or affiliated companies will use your e-mail address only to provide you with services and manage your account(s). We don't permit or authorize any associate or affiliated companies to use, collect, compile or obtain any information about our customers or subscribers, including, but not limited to, subscriber e–mail addresses.
RESPONSIBLE GAMING
Treasure Mile Online Casino prides itself in a responsible gaming environment.
We value you as our guest and enjoy your presence at our casino, however, ask that you play here responsibly with a rational mind.
Responsible gaming means that you do not gamble more than you can afford. A responsible player understands that gaming is essentially a form of entertainment. Yes, there is a chance of winning money, but if not handled with caution, irresponsible gambling can have unfavorable consequences for both the player and the casino. We want you to have a good time at Treasure Mile Online Casino – but we do not want that to be at the detriment of your well-being.
As a responsible, regulated gaming company, we carry ICRA certification. The Internet Content Rating Association (ICRA) is a non-profit organization that brings together major internet industry players, telecommunications companies, content providers and child protection bodies. The dual aims are to protect children and free speech rights on the Internet.
Compulsive Online Gambling:
Gambling is a form of entertainment. Yes, there is a chance of winning money but, if not treated as entertainment only, irresponsible gambling can have unfavourable consequences. Players must always be responsible about online gambling. Being responsible about online gambling means knowing whether to play and when and also, knowing how much money or time to spend at the casino.

In order to avoid problems with online gambling, please bear the following in mind:
Online Casinos and gambling is meant to be for entertainment purposes only. It does not guarantee a way to get rich quickly and settle any debts.
When you are on a winning streak, take occasional breaks to re-evaluate your win. Consider when it is time to stop.
Decide in advance on the amount of money you are willing to spend.
Don't try to recoup any losses, as this could lead to bad and panic betting habits.
Gambling is a game of chance. There are no systems or formulas to guarantee success.
Only play with money that you can afford to lose and under no circumstances should you borrow money to play
Self-Exclusion:
We have designed an easy to use self-exclusion program for those who may need our assistance. If you feel that you are losing control of your play and would like assistance in limiting your access to your account, Treasure Mile Online Casino offers you the following options:
A minimum 7 day cooling off period
A minimum 6 months self-exclusion period
Please contact our Customer Support at anytime for assistance with self exclusion.

Should you feel you have a gambling problem and require professional help, please visit the following sites for further assistance and information:
Preventing Underage Gambling:
We do not allow anyone under the age of 18 to play our online casino games. Our casino is not designed to attract children or adolescents. We actively discourage and track persons under the age of 18 who attempt to play at Treasure Mile Online Casino.
Please note that certain jurisdictions and US States do not allow players under 21 to gamble. Please make sure that you are of legal gambling age in your specific jurisdiction.
We use sophisticated verification systems which can identify minors who log in to our software. Nevertheless, we recognize that the internet is readily accessible in many homes around the world. As a result, gaming companies and parents must work together to protect children from underage gambling. To ensure the safety of your children, we recommend installing filtering software to block minors from accessing certain websites and programs. As a responsible adult, you can ensure that you do not leave children unattended near your computer when the casino software is running, and that you protect your gambling programs with password access.
You can also make sure that your Treasure Mile Online Casino username, password and deposit method details are not within reach of children. Educate your children about the legality and the potential damage of underage gambling. Monitor and limit the length of time your children spend online.
Unfortunately, no system is foolproof. If you know a person under the age of 18 who is registered with Treasure Mile Online Casino, please notify us without delay.
For further information on how to prevent underage gambling, we recommend the use of: